Sunday, 18 December 2011
Do you like this story?
Firstly, lets face the facts that we have lost a good back up striker in Anelka. However, let us also remember that right behind him is Romelu Lukaku who is raring to go and make his mark and the departure of "Le Sulk" will give him an oppurtunity to shine.
Also, for those fans who are not aware of this, we have already have one player who will join us in January. Lucas Piazon. For those who haven't heard his name before he is a 17 year old player who joins us from Sao Paolo and looks and plays just like Ricardo Kaka. He joins us the day he turns 18, should he impress AVB in training then this young man could be in line for some appearances.
Didier Drogba, the great, is rumored to leave the club as he is not being offered the contract extension he wants. Should Drogba leave there is no need to replace him as we have a superstar striker , Fernando Torres, ready to replace him in the 4-3-3. Drogba and Kalou will also be leaving during January and February for the African Cup of Nations and so Torres should be raring to go, all he needs is that one goal to get past the barrier.
On the other hand, with the handing in of transfer requests from players like Alex we are now faced with a defensive crisis. If possible, I would say recall Jeffery Bruma who is on loan at Hamburg. He has a great chemistry with JT as we have seen on a few occasions. Playing in the top division for half of the season will have given him some vital experience and it is time we throw him into the starting line up and see the results. Otherwise, we need to sign a Centre Back. That is priority and the name touted and seeming likely for this position is Gary Cahill.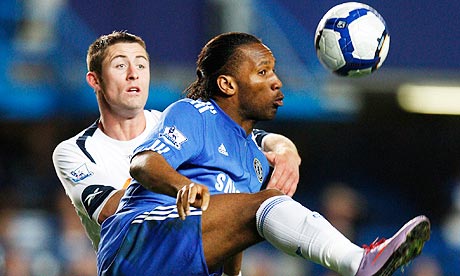 Apart from a Centre Back we need a new right back. Ivanovic doesn't cut it and Bosingwa forgets to defend as he is often completely focused on attacking. We need a world class right back who can do both. Gregory Van Der Wiel is a name being suggested for this, doesn't matter who but we need someone who is a proven and young right back. Also we need to get some more players to provide back up along the defence as we have a old group of players in this group providing back up such as Ferreria who need to go now.
If I were AVB I would also look at signing another midfielder who can play his style of Football and to be a long-term replacement for Frank Lampard. Lampard is on the decline and there is now a need, greater than ever, to replace him. Javier Pastore who rejected Chelsea for big bucks at PSG is unsettled and is looking for a move to London, or Moutinho who AVB managed at Porto, maybe even players such as Gaston Ramirez. But maybe AVB will choose to go for Josh McEachran and give him a shot and making a name for himself.
It is clear that AVB has a wishlist and needs to bring in some players. The priority is at least two defenders to make solid that back line and give us some new faces to provide good cover in those positions. A new midfielder along with Piazon for the first team would be great so that they can be groomed by AVB for his style of Football. A new striker is not needed, with Lukaku waiting in the lines he is a player who Chelsea Fans can rely on for the next decade or so and all he needs is a chance.
People who read this post also read :
Connect With Me on Twitter
Now you can connect with Chelsea Fanatic, Follow him on Twitter